Titus Electrical Services - Longmont Electrician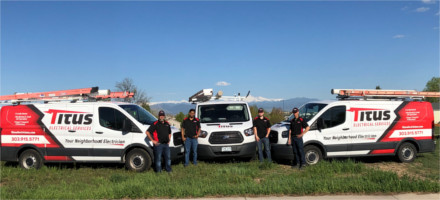 Titus Electrical Services is family owned and operated residential electrical service contractor providing a full line of services to residential homeowners. Our Longmont electricians are some of the most experienced in the area, having over 50 years of combined electrical experience in the industry. We can assist you with all phases of your residential remodeling and electrical projects. We can take care of all your residential electrical needs.
At Titus Electrical Services, our professional electricians promise that they will work hard for you. We take an immense amount of pride from the quality service we provide. We believe that every residence and business should have the most safe, reliable, functional, energy efficient, electrical system possible.
Our goal at Titus Electrical Services is to form life long and lasting relationships with our customers so that they do not have to worry about who to trust with their residential electrical needs. We are honored by the fact that so many residents and business owners trust us with their most important utility. Our electricians would be ecstatic to continue this tradition of excellence for you.
Call us today if you need to hire a local trusted professional electrician. Our polite and courteous staff is always excited to hear from the local residents. We can answer any questions that you have about your current electrical system, our services, or a prospective project. Our team can schedule your appointment today.
Services We Proudly Offer
At Titus Electrical Services, our electricians are proud of the fact that they can provide for all of your electrical needs. Here is just a short list of some of our expertly performed services.