Electrical Panel Upgrades Conducted by Longmont Expert Electricians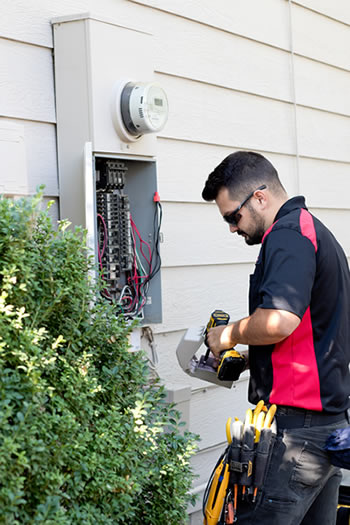 With over 50 years of combined experience in the electrical industry, our Longmont electrical contractors at Titus Electrical Services have the skills, methods, and knowledge to help you with all of your electrical needs. For older homes and those looking to substantially augment their electrical system, our electricians provide high quality panel upgrade services. Panel upgrades are a great way to improve the performance and enhance the safety of your electrical system.
At Titus Electrical Services, our Longmont electricians place a paramount importance on system reliability, functionality, and, above all else, safety. Our highly experienced electricians are all professionally trained and licensed. We constantly stay ahead of evolving technologies through continuing education in order to ensure that our customers receive the highest quality electrical services. When Longmont residents hire our electricians, they can rest assured knowing that they trusted their electrical system to the most qualified service providers.
Call Titus Electrical Services today if you need to hire a professional electrician to conduct a panel upgrade in Longmont. Our knowledgeable staff will be happy to answer any questions that you have about your current electrical panel and our exceptional panel upgrade services. We can schedule your appointment today.
How to Know When to Conduct a Panel Upgrade
There are many signs that can indicate that you need to need to upgrade your Longmont electrical panel. If you have an older home, your electrical panel may not be suited to the increased amount of energy our homes now use. As such, you may experience flickering lights, blown fuses, tripped breakers, or other inconveniences.
Because modern appliances continue to need more electricity, older panels often cannot accommodate the increased energy demands. If you need to turn off certain appliances to use other ones on the same circuit, you likely need a panel upgrade.
If there are any signs of wear and tear around your electrical panel, safety issues may be present. If you hear cracking sounds coming from the panel box or see corrosion and rust on the breakers and box, you should conduct a panel upgrade..
Panel Upgrades Enhance Longmont Electrical Systems
At Titus Electrical Services, our Longmont electricians can update your current electrical panel to remove all of the functional and safety problems listed above. In addition, panel upgrades are a great way to add to the usefulness of your home. If you are conducting a renovation and installing new appliances, you should consult with our professional electricians to determine if you need a panel upgrade to fit all of your new needs. Our professional electricians can upgrade your electrical panel whenever you are augmenting your system with home additions, additional outlets, and major appliance installations.
Our panel upgrade services ensure that your Longmont electrical system will operate in the most effective, efficient, safe, and highly functional fashion. We guarantee that you and your Longmont family will be completely satisfied with our panel upgrade services.
Recent Panel Upgrades
Recent Articles
Boulder Emergency Electrician Services and Repairs
When it comes to electrical emergencies, time is of the essence. Whether it's a power outage, a sparking outlet, short circuit, breaker box repair, faulty electrical or a malfunctioning appliance, these issues can not only be inconvenient but also pose a safety hazard. That's why it's […]
Boulder Electrician Near Me
When it comes to electrical issues, time is of the essence. Whether it's an urgent need for an emergency electrician for a power outage, circuit breaker, faulty wiring, flickering lights, light switch, GFCI tripping, electrical panel repair, or you just need an electrician to install a […]