Longmont Electrician Testimonials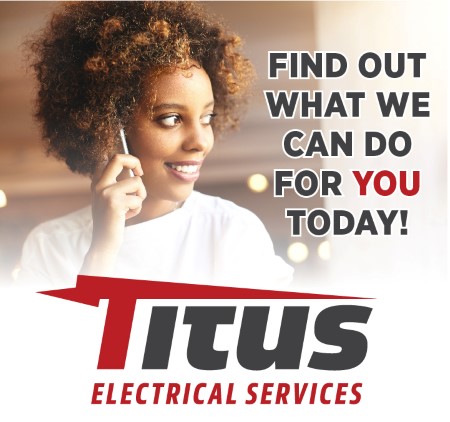 I was called by a representative of Titus Electrical Services very soon after I left a message. I was provided a competitive quote the same day and a follow up the next. My requested service was comp
Extremely satisfied customer! Working with Titus Electrical Services was a great experience. It's hard to find honest, reliable contractors that I can trust to do a great job. Marc was extremely know
Mark and his team at Titus did an amazing job installing new electrical outlets for me in my basement. The work was very well done and priced right. I would highly recommend Titus Electrical and will
Marc did such a great job installing my breaker box for my hot tub and installing new outlets in my garage. Not only is he nice and friendly but very professional and caring about the quality of his
Titus Electrical Services did an outstanding job for me installing new can lighting in my kitchen and living room. He took out the old florescent lighting and put in 11 beautiful can lights and addit
Thank you Titus for doing all the electrical work I needed to get done to finish my basement! I felt completely overwhelmed with the thought of how everything was going to come together, but your tea
We had a great experience with Titus. The technician was thorough, honest and very reasonably priced. Before the installation, he thoroughly described the work that would be done without leaving anyt
Just found my permanent electrician. My experience with Titus was leaps and bounds better than any experience I've had with electrical companies in the past. The service was professional, fast, frien
Called because an outlet almost blew up on me when I tried to plug in my dryer. Marc came out right away and was able to figure out what was wrong with the outlet. He installed a new breaker for me,
I couldn't be happier with the service I received from Mark and Titus Electrical Service. I was in a bind to have my Main Service replaced in order to sell my house (old Federal Pacific box). Mark wa
He has done 15 houses for my in the last years and half. I have recommend him to others.
Very cooperative, gave me options on the project. Was about half the price of other competitors. Found parts that others were unable to. Worked around my schedule.
Very prompt. Professional.
Mark did a great job. Knowledgeable and a great communicator. Will use him again.
Was flexible around our schedule and showed up on time. Was friendly and knowledgeable. Did a good job on work requested.
We had been trying to get a problem with our dryer fixed ever since it was new. Everyone charged us a big bill and didn't fix the problem. When I called Titus Electric, Mark came out the same day. No
If you need any electrical work, Hire this company immediately. Mark was very quick to respond to my phone inquiry. he called me back within an hour of my call to him. He was able to come over that d
Mark was on time, very knowledgeable, professional and very courteous. Mark was able to diagnose my problem that I was unable to find in a matter of seconds. I will use him in the future and would re
I ran into Marc in Home Depot while I was shopping for parts to fix our camper lights that stopped working while we were on the road. He offered help to my family and fixed our issue for us out in th
Mark was prompt,very knowledgeable, concerned and careful of our cost - a pleasure to do business with.
I was super impressed with Titus and Mark's professionalism, work quality, availability and friendliness. I would recommend this firm with the highest confidence and would no hesitate to use them aga
Friendly, affordable. Assessed the problems we had from our inspection, suggested a few things and got to work, got everything done pretty quick, was clean as well! Thanks guys!!
Marc always knows how to solve our electrical needs, thoroughly and efficiently. He sets appointment times and keeps them. I have recommended Titus to all of our neighbors and can't imagine using any
I am overwhelmed with gratitude for the service Dakota and his partner offered over the past two days. They trouble shot a problem three other companies could not rectify. In addition, they were time
The techs that showed up were thorough and professional. They fixed issues and are returning to solve a larger problem. They were prompt, professional, and accommodating. Thank you for helping my bus
Marc, Once again your company did fantastic work. I didn't expect anything different. You run a very well and professional company and I would and will recommend it to everyone. Thank you again.
Above & beyond any company you could have! Integrity & follow up is amazing! Even when out of service area, they came twice & fixed EVERYTHING! Mark the owner is one caring, compassionate guy & kn
Great service. Your now my electrician. The guy was super.