Electrical Panel Installation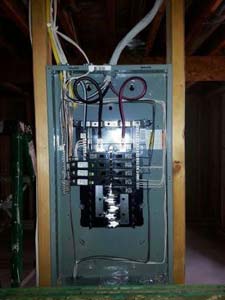 When you are in need of finding a professional to take care of your Longmont electric panel installation , you need to be sure that you are getting the quality workmanship you need and deserve. Every home has an electric panel that acts as the center of your electrical system and breaks down the parts of your home into circuits. This is like the brain for the central nervous system that is your electrical system.
Obviously, this is the type of task that you need to be sure is done correctly in order to keep your home running with the power it needs but also in a safe manner. The last thing you need is to have anything off in your installation so that it doesn't work properly or poses a threat to the safety and well being of your home, your family or yourself. In order to prevent having problems resulting from the installation job, it is essential that you work with the Longmont Electrician pros here at Titus Electrical Services to get the job done right the first time. Let us show you what it means to have quality professionals take care of this essential task for your home.
Expert Electric Panel Installation
The truth is plain and simple ? you need an adequate electrical panel in order to be able to use electricity in your home. More than that, you have to be certain that the installation is carried out with the utmost level of professionalism so that you can use this system safely and effectively. Don't settle or work with someone who cuts corners when it comes to this type of work.
The key to electrical safety in your home is to evenly distribute electricity in order to prevent an overload or other types of possible problems. At the source in your home, everything must be handled properly in order to make sure that you do not run the risk of shorting out breakers, causing a surge or having the possibility of any type of shock, just to name a few. Don't take chances when it comes to getting this type of work done for your home.
Longmont Electric Panel Installation
With over 50 years of combined expertise in the electrical field, you can rest assured that we can get the job done, promptly, professionally and, most importantly, safely. We take this line of work seriously, and it shows in our results. When the time comes for your Longmont electric panel installation, know that the name to trust is Titus Electrical Services. Give us a call today and let's get started.
Recent Panel Installation
Recent Articles
GFCI Outlet Installation Safety
GFCI stands for Ground Fault Circuit Interrupter. These are safety devices used to monitor the amount of energy flowing from a power source and can be present in a breaker or an outlet. By stopping the power flowing through it, GFCIs can prevent serious, even fatal […]
3 Signs Your Home Is Due For Electrical Panel Repairs Or Replacement
Your electrical system is the heart of your Longmont home, and of the components that make up your electrical system, your electrical panel is one of the most crucial. Identifying when your current electrical panel is in need of repairs or even a replacement is important […]