Smoke Alarms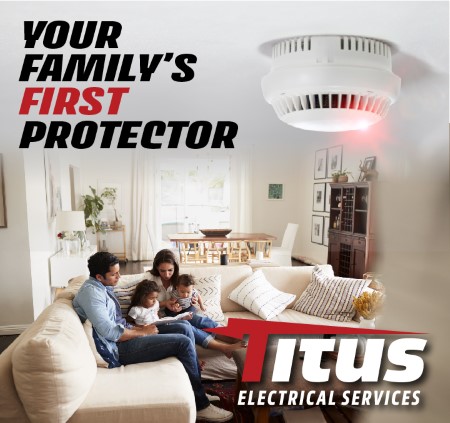 Hard-wired smoke alarms are installed directly into your electrical system by a Longmont electrician . They can be interconnected so that every alarm sounds regardless of the fire's location. This is an advantage in early warning because it gives occupants the extra time to escape if they are in one part of the home and a fire breaks out in another part. This is very important if you are asleep when a fire breaks out on the other side of the house.
Smoke alarms should be installed in homes in Longmont. Alarms that are hard-wired should have a battery backup to ensure continual monitoring even during power outages. Don't rely on battery operated inferior smoke alarms as they don't last and often fail. Call Titus Electrical Services for hard-wired smoke alarm installation instead.
We are available for appointments or to answer your questions. Let's get your home or business protected today with the installation of early-warning smoke alarms that are dependable and reliable.
Key Areas For Smoke Alarms Installation
These life-saving devices are only effective when they are installed in the right areas of your home. They also need to be working properly at all times. This means you need to install them directly into your electrical system instead of relying on smoke alarms which may have dead batteries, get disconnected, or fail and don't alert you to the dangers of smoke and fire.
Our Longmont electrician will assess the locations where smoke detectors should be installed. Every home and building are different, so we will need to take a look at the layout and determine where and at what height to install them.
You may also be interested in combination smoke alarm and carbon monoxide detectors which are vital if you have fuel burning appliances, fireplaces, water heaters, or a gas furnace.
Combi Smoke Alarms & Carbon Monoxide Detectors
For complete protection, install combination smoke alarms and carbon monoxide detectors. This offers you complete protection for your home and family. CO poisoning and fire are two leading causes of death and health-related illnesses in the U.S. annually.
Call Titus Electrical Services today for smoke alarm and CO alarm installation. We will evaluate the layout of the building or your home to determine where and at what height to install them. Titus Electrical Services offers customers a one-year workmanship and product guarantee. Of course, the manufacturer will also provide a warranty for the smoke detectors.
Call today for an appointment. We'll be glad to answer any questions you may have about our services.
Recent Smoke Alarm Installations