EV Car Charger Installation Services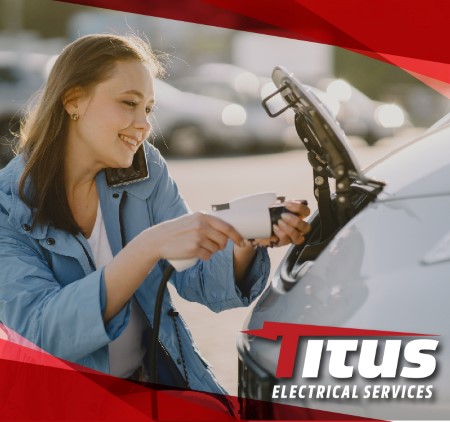 Tired of looking for a convenient place to charge your electric vehicle in Longmont? Installing an EV car charger at home will completely change how you fill your vehicle, making it effortless and convenient. While there is an expanding number of public charging stations popping up across Colorado, charging at home eliminates the hassles associated with locating and using them.
If you are interested in installing an EV car charger for your home in Longmont, you should know that there are strict electrical safety code requirements for the installation. Our electricians at Titus Electrical Services are trained and certified specialists in EV car charging installations.
If you are ready to look at the options available, contact our Longmont electricians today for a consultation.
Registered Tesla Installer
Tesla Charging Stations
Tesla Car Charger
Tesla Home Charger
Tesla Charger
Choosing Your EV Car Charger
Charging stations come in various sizes and capabilities, with many using the 120 or 240 volt power outlets. There are also different options in high-powered charging connectors that will charge your vehicle within just a few hours.
The charging receptacle will need to be installed near your vehicle parking space so you can charge it easily at your convenience. You can choose a level 1 charging station, which uses a 120-Volt standard home outlet connection and takes around 22 hours for a full charge.
Or, you can bump up the power with a level 2 charger that uses a 240-volt connection and will provide about 40 miles of charge within 40 minutes to 3 hours depending on whether you choose a 3.3 kW or 16.8 kW station.
Let's get together to go over all the options. We would be happy to explain the process, the equipment, and anything else you need to know.
Why Choose Us For EV Car Charger Installation?
Whether we are installing a new EV charging station or handling another electrical service for you, our Longmont electricians are dedicated to providing honest, reliable service. With this goal in mind, we provide upfront pricing, competitive rates, and a quality workmanship guarantee. We are a registered Tesla car charger installer.
Let's start with a professional consultation today where we can tell you more about our EV car charger installation service. We will be happy to answer your questions about the different options available so you can determine what will work best for you.
EV Car Charger Gallery
Recent EV Car Charger Installation Projects
Recent Articles
GFCI Outlet Installation Safety
GFCI stands for Ground Fault Circuit Interrupter. These are safety devices used to monitor the amount of energy flowing from a power source and can be present in a breaker or an outlet. By stopping the power flowing through it, GFCIs can prevent serious, even fatal […]
3 Signs Your Home Is Due For Electrical Panel Repairs Or Replacement
Your electrical system is the heart of your Longmont home, and of the components that make up your electrical system, your electrical panel is one of the most crucial. Identifying when your current electrical panel is in need of repairs or even a replacement is important […]