Electric Car Charger Installation in Firestone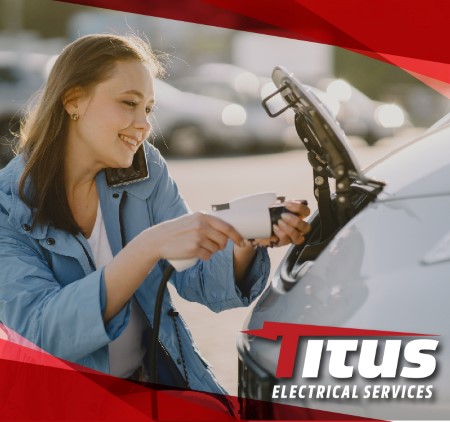 Electric cars are becoming more and more popular, and with them comes the need for reliable and efficient charging stations. At Titus Electrical Services, we offer top-quality electric car charger installation services in Firestone to help you get the most out of your electric vehicle.
Our team of licensed electricians has extensive experience in EV charger installation, replacement, and repair. We use only the best materials and equipment available on the market to ensure that your EV charger is functioning properly and safely.
If you're in Firestone and need a new electric car charger installed, our team can handle the job quickly and efficiently. We'll make sure that the installation is up to code and that your charging station is operating at peak efficiency.
If you're experiencing issues with your existing EV charger, we can diagnose the problem and recommend the best course of action to keep your electric vehicle charging safely and efficiently.
At Titus Electrical Services, we prioritize safety and quality in all of our work. We offer affordable rates for our services and work quickly to minimize disruption to your daily routine.
Trust our experts for all your electric car charger installation and EV charger installation needs in Firestone.
Why Choose Titus Electrical Services for EV Charger Installation?
Expertise: Our team of licensed electricians has years of experience in EV charger installation. We are familiar with all types of chargers and can help you choose the best options for your needs.
Custom Solutions: We understand that every property has different charging needs. That's why we offer custom EV charger solutions tailored to your specific requirements.
Quality Products: We only use high-quality EV charger products from trusted manufacturers to ensure your charging system will last for years to come.
Timely Service: We understand that your time is valuable, which is why we always arrive on time and complete projects within the agreed-upon timeline.
Competitive Pricing: We believe that quality EV charger installation shouldn't break the bank. That's why we strive to offer competitive pricing for all of our services.
Our EV Charger Installation Services
At Titus Electrical Services, we offer a variety of EV charger installation services, including:
Level 1 Charging: This is the most basic type of charging, using a standard 120V outlet. It's the slowest option, but it's still useful for occasional use.
Level 2 Charging: This type of charging uses a 240V outlet and is much faster than Level 1 charging. It's the most common type of charger for home use.
DC Fast Charging: This is the fastest type of charging available, using a special high-powered charger. It's typically only found at public charging stations.
Contact Us for EV Charger Installation Services
Ready to install a reliable and efficient EV charger at your home? Contact Titus Electrical Services today to schedule an appointment for EV charger installation services. Our team of licensed electricians is dedicated to providing fast, reliable, and affordable services to help you achieve your charging goals. Don't let a lack of charging options hold you back from enjoying your EV to the fullest. Contact us today to get started.
EV Car Charger Gallery
Recent EV Car Charger Installation Projects
Recent Articles
Who Is Responsible for Electric Meter Repairs and Service?
Electricity meters are essential for measuring and billing the amount of electricity used in a home or business. However, like any other equipment, meters can sometimes require repairs or service. In this blog post, we'll discuss who is responsible for electric meter repairs and service and […]
What is Whole House Surge Protection and Why Do You Need It?
Power surges can cause serious damage to your electrical devices, including computers, televisions, appliances, and more. To prevent this damage, it's important to invest in surge protection. In this blog post, we'll discuss what whole house surge protection is and why you need it. A power surge […]