Arc Fault Breakers Installation In Longmont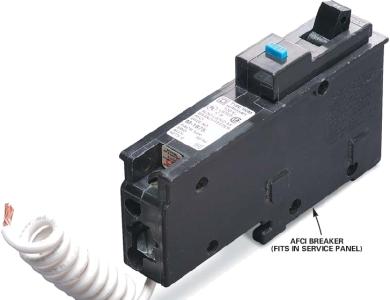 An Arc Fault Breaker , or AFCI, will detect electrical arcing faults along a wiring circuit. Electrical arcs can cause house fires. If an arc is detected, the breaker interrupts power to prevent fires.
This device is different than the GFCI which protects people and appliances from electrical shock when water or moisture is present. The breaker is also different from whole house surge protection equipment as those are designed to divert surges originating from outside the home. You can get combination AFCI / GFCI circuit breakers installed.
The AFCI breakers are installed in place of existing standard breakers in your home's electrical panel. Call the expert Longmont electricians at Titus Electrical Services if you have questions or need Arc Fault Breakers installed in Longmont. We also serve other communities nearby.
About Arcs & Fault Breakers
You can literally see an electrical arc because it ionizes gasses in the air. It is a discharge between two conductors whether it's air or some solid insulator. An arc occurs the same way a lightning strike does, by discharging electricity through the easiest path. An arc flash is the light and heat produced during the process. This heat is what ignites objects in the arc's path.
The arc fault breaker detects this activity and quickly cuts the power off to that circuit. A wiring circuit is the physical path of electrical wiring which may include one or more wires and possible intermediate switching points. If an arc occurs, it can start a fire anywhere along that path.
AFCI breakers would be installed to serve bedrooms, dining rooms, living rooms, and other areas of the home. While they were once only required in bedrooms, they are now important for all areas of the home due to the increase in annual fires occurring because of faulty electrical systems.
Why Choose Titus Electrical Services For Arc Fault Breakers Installation?
Titus Electrical Services is a local, reputable company with an A+ rating from the BBB. We are also top-rated Longmont electricians with HomeAdvisor. We are family owned and operated and have been providing service excellence since 2009.
Our goal is to work hard and earn your trust on every job so we can develop a long-term relationship with you. We offer a one-year workmanship and materials guarantee to ensure you are completely satisfied. Be sure to take a look at our service discounts and give us a call with any questions.
A routine electrical safety inspection is an important part of ensuring the electrical system in your home will provide the power you need safely. If you haven't had an inspection in the last five years or so, let us examine your electrical panel to see if you need arc fault breakers installed. Our electricians will be honest, thorough, and upfront with you.
Recent Articles
Who Is Responsible for Electric Meter Repairs and Service?
Electricity meters are essential for measuring and billing the amount of electricity used in a home or business. However, like any other equipment, meters can sometimes require repairs or service. In this blog post, we'll discuss who is responsible for electric meter repairs and service and […]
What is Whole House Surge Protection and Why Do You Need It?
Power surges can cause serious damage to your electrical devices, including computers, televisions, appliances, and more. To prevent this damage, it's important to invest in surge protection. In this blog post, we'll discuss what whole house surge protection is and why you need it. A power surge […]