GFCI Outlets Installation Service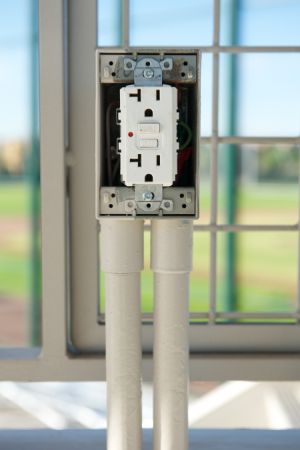 Installing GFCI outlets is very important in key areas of your home where water may come into contact with electricity. Not all homes are fitted with GFCI outlets in the proper places.
This type of electrical receptacle will interrupt power to the wiring circuit which is attached to it whenever moisture is detected. The sensors are sensitive and work very quickly to keep you safe from electrical shock.
Titus Electrical Services is very familiar with electrical safety code requirements in the Longmont area and other communities nearby, so we know where you need GFCI outlet installation throughout your home.
Our Longmont electricians have been helping homeowners with electrical services since 2009. We have decades of combined experience in the industry and are constantly improving our skills. If you need GFCI outlets installed in your home or you aren't sure if you do, call us for an estimate. We'd be glad to take a look and tell you where you need them.
Key Areas For GFCI Outlet Installation
You definitely should have GGCI outlets installed in the bathroom, kitchen, and laundry room of your Longmont home. You may need or want to install them in other areas such as near the water heater, in basements, and all outdoor areas. In fact, they are actually now the standard type of receptacle installed in new home construction.
What GFCI Outlets Look Like
We are commonly asked how to tell if there are GFCI outlets installed in the home. Your best bet is to have us look for you as you may already have other protection devices installed. This outlet looks very similar to a regular outlet except it has a colored test and reset buttons.
GFCI stands for ground fault circuit interrupter. It works automatically and is a very inexpensive device which protects you and your family.
GFCI Circuit Breakers
Installing GFCI circuit breakers in the electrical panel to replace standard breakers will not only keep everyone safe from electrical shock but also protects the entire circuit that your electronics and appliances are plugged into. This also includes the lighting, garage door opener, and other devices.
Your electrical panel may already need upgrading. An electrician should do an electrical inspection of your home every five to ten years. They will examine and test the breaker panel to see if you need an upgrade. If you do, it's wise to install the GFCI circuit breakers since you already need an upgrade.
How To Tell If Your GFCI Outlets Are Working
Did you know that about 10% of installed GFCI outlets do not work? This is most commonly due to improper installation, but it can also be due to wear or damage.
As a homeowner, you should test them monthly and after any electrical storms or power surges. You may still be getting power through the receptacle, but that doesn't mean it's working properly.
If you are ready for an electrical inspection or just need an estimate for GFCI Outlet Installation service in Longmont, give us a call. It's an important safety feature for your home that shouldn't be put off.
Recent GFCI Outlet Installation Projects
Recent Articles
Who Is Responsible for Electric Meter Repairs and Service?
Electricity meters are essential for measuring and billing the amount of electricity used in a home or business. However, like any other equipment, meters can sometimes require repairs or service. In this blog post, we'll discuss who is responsible for electric meter repairs and service and […]
What is Whole House Surge Protection and Why Do You Need It?
Power surges can cause serious damage to your electrical devices, including computers, televisions, appliances, and more. To prevent this damage, it's important to invest in surge protection. In this blog post, we'll discuss what whole house surge protection is and why you need it. A power surge […]