Lighting Repair & Installation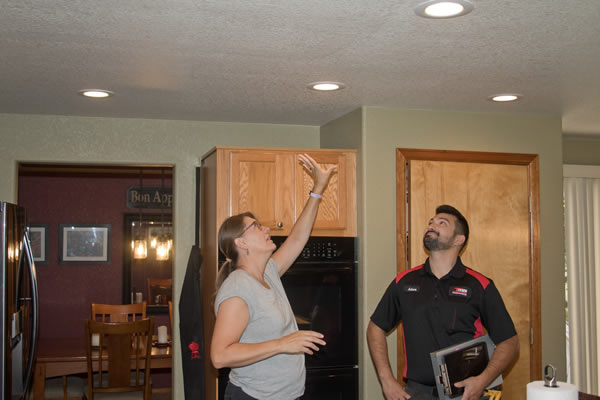 At Titus Electrical Services , our Longmont electricians have over fifty years of experience providing the local area with high quality lighting and electrical services. We are expertly skilled at lighting installations, recessed lighting, lighting repairs, and lighting retrofitting. Our electricians are here to help with your next lighting project.
Call Titus Electrical Services today if you need to hire an electrician to assist you with lighting installations , repairs, or performance improvement. Our knowledgeable staff is here to assist you in any way that we can. We would be happy to discuss your needs or prospective projects with you and to answer any questions that you may have. We can schedule your appointment today.
Lighting Installations
If you're looking for a great way to alter the interior design of your Longmont home's interior, new lighting installation can be a great way to do so. While lighting installation might seem like a fairly simple DIY project, it's often one that's better left to the pros.
The right new lighting can have a dramatic effect on the overall comfort your home has to offer for you and your family, and when you're in need of a skilled electrician who can get your new lighting installation done right quickly and efficiently, Titus Electrical Services is the only name you need to know.
We understand that there's a lot that goes into a successful new lighting installation, from finding the right lighting options all the way to the actual wiring, and with the help of our skilled electricians, you'll have the help you need to find and install the perfect new lighting options you need to fit your functional and aesthetic needs.
Lighting Repairs
Whether it's a flickering light in your kitchen that's driving you crazy or a dimmer system that just doesn't seem to work right, lighting that doesn't function as you need it to can be a real annoyance around the home, and in some cases, can even be quite dangerous. Your lighting plays a major role in the overall comfort and convenience your Longmont home has to offer for you and your family, and if there's an issue with one or more fixtures around your house, it's time to call in a local electrician who can provide you with the lighting repairs you need to resolve the issue.
When any part of your home's lighting isn't working properly, it can cause a great deal of disruption around your house, especially if the issue is a bit more complicated than a burnt-out bulb. Lighting repairs can be trickier than they might seem at first, but with the help of our skilled Longmont electricians, it's never been easier to resolve lighting issues.
When it comes to comprehensive lighting repairs in the Longmont area, Titus Electrical Services is the only name in quality you need to know.
Track Lighting
Track lighting is a great, space-saving, versatile, and artistic way to illuminate your home or business. Essentially, track lighting is a fixture along which multiple lights can be hung to provide a customized level of light to a particular space. Along the track, lights can be angled towards unique architectural features or workspaces for superior lighting control. These gorgeous lighting fixtures are a unique way to improve any property.
Recessed Lighting
There are plenty of reasons recessed lighting has become so popular. Aside from looking sleek and stunning, it is also an ideal space saver. And, for any homeowner who likes a less cluttered look, having all these small lighting fixtures concealed in the ceiling helps make everything look more aesthetically pleasing. The important thing is to find the right team of experts to take care of helping you through the process, from start to finish.
---
Latest Lighting Projects
---
Recent Articles
Boulder Emergency Electrician Services and Repairs
When it comes to electrical emergencies, time is of the essence. Whether it's a power outage, a sparking outlet, short circuit, breaker box repair, faulty electrical or a malfunctioning appliance, these issues can not only be inconvenient but also pose a safety hazard. That's why it's […]
Boulder Electrician Near Me
When it comes to electrical issues, time is of the essence. Whether it's an urgent need for an emergency electrician for a power outage, circuit breaker, faulty wiring, flickering lights, light switch, GFCI tripping, electrical panel repair, or you just need an electrician to install a […]