Recessed Lighting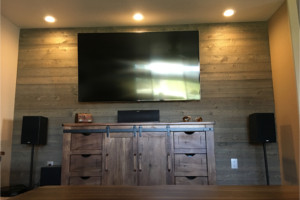 There are plenty of reasons recessed lighting has become so popular. Aside from looking sleek and stunning, it is also an ideal space saver. And, for any homeowner who likes a less cluttered look, having all these small lighting fixtures concealed in the ceiling helps make everything look more aesthetically pleasing. The important thing is to find the right team of experts to take care of helping you through the process, from start to finish.
At Titus Electrical Services , our Longmont Electricians can help you through every step along the way. From showing you the exciting options that you have and making important decisions about which style to choose to installation and following up to take care of any future repairs you may need, we will be there for you. Let us show you what a difference true quality makes when it comes to the work that you could be getting and that should be going into your home. We look forward to having the opportunity to work with you and help you make sense of the entire project.
Recessed Lighting Pros
The first thing to know is that there are two main components to your recessed lighting: the trim and the housing. The housing, as the name would imply, holds the main components including the actual light. The trim is what holds it all in place and the part of the unit that is the most visible. So while recessed lighting is mostly desirable because you don't really see the light fixtures, the trim will be visible. There are also plenty of other decisions to make about the trim based on the optional styles available.
For instance, some settings call more for adjustable trim so that the bulbs basically ?float? in the housing. As the name implies, this also makes it possible for you to adjust the direction of the lighting, which makes it perfect for accent lighting. When you make the wise decision to work with our pros, we can help explain all of the options you have and help you make the best decision possible.
Longmont Recessed Lighting
The thing you should understand the most about the Titus Electrical Services name is that we take great pride in the work that we do and that is continually demonstrated in the high quality results that we get. When you need a professional to take care of your Longmont recessed lighting, you now which company to call on. We look forward to providing you with the quality work you deserve. So get in touch now to find out more about what we can do for you.
Recent Recessed Lighting Installations
Recent Articles
GFCI Outlet Installation Safety
GFCI stands for Ground Fault Circuit Interrupter. These are safety devices used to monitor the amount of energy flowing from a power source and can be present in a breaker or an outlet. By stopping the power flowing through it, GFCIs can prevent serious, even fatal […]
3 Signs Your Home Is Due For Electrical Panel Repairs Or Replacement
Your electrical system is the heart of your Longmont home, and of the components that make up your electrical system, your electrical panel is one of the most crucial. Identifying when your current electrical panel is in need of repairs or even a replacement is important […]