Lighting Repairs Conducted by Experienced Longmont Electricians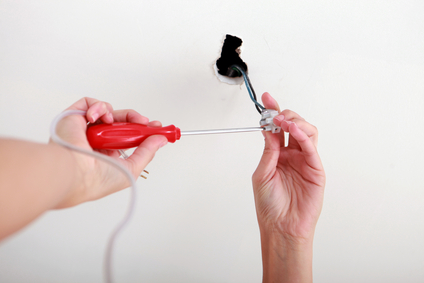 As a Longmont property owner, you have an obligation to ensure that every portion of your property is properly maintained. At Titus Electrical Services , our Longmont electricians can help you repair every aspect of your electrical system including your lighting. In all of our services, our main goal is to ensure that our customers are completely satisfied with the results.
At Titus Electrical Services, our Longmont electrical contractors are honored by the fact that local families and businesses have trusted us with all their electrical repair needs for so long. When you hire us to conduct lighting repairs, rest assured that our experts will complete the repairs to your satisfaction. We strive to honor the trust that our customers place in us by working our hardest to provide the highest quality services possible.
Call Titus Electrical Services today if you need to hire a professionally licensed electrician to conduct lighting repairs in Longmont . Our courteous and polite staff will be happy to assist you in any way that we can. Our electrical experts can answer any lighting related questions you may have and will be happy to discuss our services with you in greater detail. We would love to schedule your appointment today.
Residential Lighting Repair Services in Longmont
At Titus Electrical Services, our Longmont electricians have been in the industry for over 50 years. As such, we have the knowledge, skill, and experience necessary to repair any residential lighting system. We specialize in both interior and exterior lighting repairs. In every project we undertake, we strive to ensure that your residential lighting operates in the best, most efficient, and safest fashion possible. By achieving all of these goals, we can ensure your complete satisfaction with all of our work.
Lighting Repair Services in Longmont
At Titus Electrical Services, our Longmont electricians also specialize in lighting repair services. In order for your business to operate efficiently and productively, it is important for every aspect of your electrical system to operate in the best possible fashion. Our lighting repair experts can help you with any of your interior or exterior lighting repair needs.
Our team can ensure that your workspaces have an ample amount of light to promote employee productivity. Our exterior lighting repair professionals can resolve problems with building lighting, security lighting, electrical signs, and parking lot lighting. You will be completely satisfied with our high quality lighting repair services.
Recent Articles
Who Is Responsible for Electric Meter Repairs and Service?
Electricity meters are essential for measuring and billing the amount of electricity used in a home or business. However, like any other equipment, meters can sometimes require repairs or service. In this blog post, we'll discuss who is responsible for electric meter repairs and service and […]
What is Whole House Surge Protection and Why Do You Need It?
Power surges can cause serious damage to your electrical devices, including computers, televisions, appliances, and more. To prevent this damage, it's important to invest in surge protection. In this blog post, we'll discuss what whole house surge protection is and why you need it. A power surge […]