Carbon Monoxide Detectors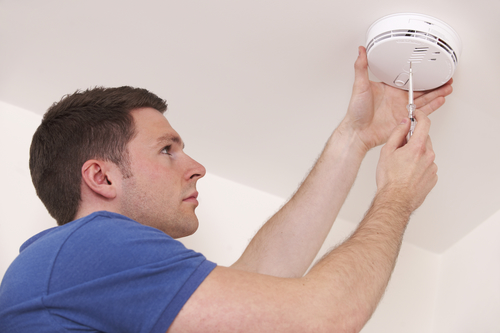 Carbon monoxide poisoning is a leading cause of death and can kill within minutes. It can also leave you with permanent neurological impairment. Carbon monoxide, nicknamed the ?silent killer?, is produced by fuel burning appliances, fireplaces, furnaces, space heaters, and even water heaters.
While these appliances function normally a majority of the time, improper installation or operation, inappropriate ventilation, or a defective appliance can cause lethal concentrations of carbon monoxide to enter and be trapped inside your home.
Titus Electrical Services is a Longmont electrician who installs carbon monoxide detectors . The alarms are installed directly into your electrical system.
The hard-wired installation of CO alarms in key areas of your home or business are effective to alert you of carbon monoxide problems. The alarms work continuously without interruption to detect potentially deadly conditions. If the main electrical service is ever interrupted due to a power outage, the alarms have a battery backup to keep them functioning at all times.
Carbon Monoxide Detector
Natural Gas Detector
Propane Gas Detector
Methane Gas Detector
Low-Level Carbon Monoxide Detectors
It is especially important to install low-level carbon monoxide detectors in your home. Most don't alarm until levels of CO have already reached a highly hazardous level. Typically, store-bought detectors, while less expensive, only provide life-or-death protection for normally healthy adults. However, they do little to nothing for children, pets, the ill, or the elderly.
The correct type of carbon monoxide detector is one that will detect low levels of CO. At Titus Electrical Services, our Longmont electricians install professional grade, low-level carbon monoxide alarms that are designed to provide protection for everyone.
CO is lighter than air and can't be smelled or seen. Monitors should be mounted in specific areas of your home at specific heights for proper detection. Our professional electrician will evaluate the best locations for your home as every one is different.
Combi Carbon Monoxide Detectors & Smoke Alarms Hard Wired Installations
The best alarms you can install in your Longmont home are the combination monitors which detect both CO and smoke. This double-duty alarm system protects your family and home from poisonous gas and fire.
Fire-related smoke inhalation is responsible for most cases of carbon monoxide poisoning. However, non-related CO poisoning has led to up to 50,000 emergency room visits and 1200 deaths per year. And remember, there are other permanent injuries related to fire and carbon monoxide every year.
Call Titus Electrical Services today if you need carbon monoxide detectors installed in your Longmont home. We guarantee the products and workmanship for one year from the time of installation. Our professionals are ready and willing to answer any questions you have or schedule an appointment.
Recent Articles
Who Is Responsible for Electric Meter Repairs and Service?
Electricity meters are essential for measuring and billing the amount of electricity used in a home or business. However, like any other equipment, meters can sometimes require repairs or service. In this blog post, we'll discuss who is responsible for electric meter repairs and service and […]
What is Whole House Surge Protection and Why Do You Need It?
Power surges can cause serious damage to your electrical devices, including computers, televisions, appliances, and more. To prevent this damage, it's important to invest in surge protection. In this blog post, we'll discuss what whole house surge protection is and why you need it. A power surge […]