Highly Skilled Longmont Electricians Conducting Aluminum Wiring Replacement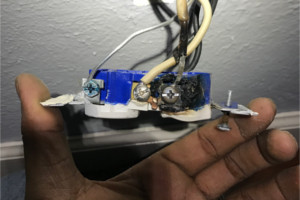 At Titus Electrical Services , our Longmont electricians believe that the most important aspect of your electrical system is its safety. Unfortunately, because electricity has become so ubiquitous, Longmont residents often overlook unsafe conditions in their homes. One unsafe condition present in many homes constructed before the 1980s is the aluminum wiring. Our professional electricians can replace aluminum wiring to ensure that your electrical system is as safe as possible.
When you have aluminum wiring in your Longmont home, it is important to hire a professionally licensed contractor to assess the safety of your electrical system. At Titus Electrical Services, our professionally trained and licensed Longmont electricians have over 50 years of combined experience, and we have developed the skills and troubleshooting methods necessary to ensure complete electrical safety including the replacement of aluminum wiring.
Call Titus Electrical Services today if you believe that you have aluminum wiring present in your Longmont home. There could be substantial safety risks that you should address immediately. Our knowledgeable staff is happy to answer any questions about the safety issues presented by aluminum wiring. We can schedule your appointment today.
Reasons to Replace Aluminum Wiring From Your Longmont Home
Aluminum wiring causes many unsafe conditions and can also affect the overall functionality of your Longmont electrical system. The main problem stems from the fact that as aluminum oxidizes the conductivity of the material is substantially impaired.
Copper wiring is the most common form of wiring used in homes today. When copper is exposed to air, it oxidizes; however, this compound is still highly conductive. As such, this natural process does not affect the functionality or safety of your Longmont electrical system.
In contrast, when aluminum wiring is exposed to the air, the resulting material substantially inhibits energy flow. Aluminum wiring oxidation can cause substantial safety problems and function problems at connection points. The increased resistance to electrical current can cause the elements to heat to unsafe levels. As such, faulty aluminum wiring has been determined to be the cause of many electrical problems, appliance damage, and electrical fires.
Aluminum Wiring Replacement Conducted by Longmont Experts
At Titus Electrical Services, our Longmont electricians are exceptionally skilled at wiring replacement and repair. As such, we are the optimal team to handle any extensive aluminum wiring replacement project in Longmont. If you believe there is aluminum wiring present in your home, our professionals can conduct an electrical safety inspection to determine if complete rewiring is necessary. If there are any dangers present, our expert electricians can completely resolve the problem. After using our aluminum wiring replacement services, you can rest assured knowing that your electrical system is highly efficient, and more importantly, supremely safe.
Recent Articles
Who Is Responsible for Electric Meter Repairs and Service?
Electricity meters are essential for measuring and billing the amount of electricity used in a home or business. However, like any other equipment, meters can sometimes require repairs or service. In this blog post, we'll discuss who is responsible for electric meter repairs and service and […]
What is Whole House Surge Protection and Why Do You Need It?
Power surges can cause serious damage to your electrical devices, including computers, televisions, appliances, and more. To prevent this damage, it's important to invest in surge protection. In this blog post, we'll discuss what whole house surge protection is and why you need it. A power surge […]