QuietCool™ Quiet & Efficient Whole House Fans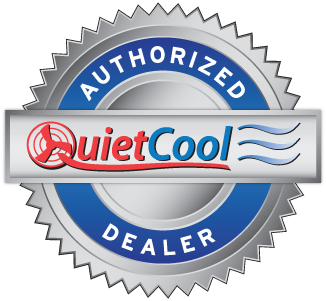 At Titus Electrical Services , our trusted Longmont electricians can install the perfect whole house fan solution to help you save energy and enjoy advanced technology that really works. Our whole house fans are a revolutionary way to quietly and quickly remove stale air, hot air, and odors from your home.
If you love to open the windows to enjoy a cool night breeze, a whole house fan will quickly pull all the hot air from the attic and create air flow through the windows. Your home will stay cooler for longer the next day too.
Whole house fans are not new, but whole house fans that operate quietly and efficiently are. Old models are noisy and took a lot of power to run, so many people just never liked to use them.
With our quiet model, you'll never hesitate to turn the whole house fan on. Just call us for a consultation today and we'll be happy to answer all your questions.
Can replace stale air up to 20 times per hour
Quickly eliminates pet and household odors
Can save 50-90% off your AC costs
Advanced technology
Quiet operation
Enjoy better health & more comfort
Improves Attic Ventilation To Protect Roof
Not only will our whole house fan improve your home comfort, it will help to remove moisture in the attic. Moisture is the number one cause of mold growth, warped boards, and damaged insulation, roofing deck, and drywall in the attic.
This new patented whole house fan is made right here in the USA and comes with a full 15-year warranty. Our electrical service company also guarantees your satisfaction with the quality of the installation.
Installation workmanship guaranteed to please
15-year fan warranty
Make in the USA
Patented new technology
How Our Whole House Fans Save Energy
By quietly running your whole house fan, you can save up to 90% of your AC costs. It works so efficiently because of two things.
One, the technology is more advanced to operate much more efficiently than other attic fan types.
Two, by pulling cool air inside your home and attic space quickly, you don't have to rely on the AC as much.
Recent Whole House Fan Installations
Recent Articles
Who Is Responsible for Electric Meter Repairs and Service?
Electricity meters are essential for measuring and billing the amount of electricity used in a home or business. However, like any other equipment, meters can sometimes require repairs or service. In this blog post, we'll discuss who is responsible for electric meter repairs and service and […]
What is Whole House Surge Protection and Why Do You Need It?
Power surges can cause serious damage to your electrical devices, including computers, televisions, appliances, and more. To prevent this damage, it's important to invest in surge protection. In this blog post, we'll discuss what whole house surge protection is and why you need it. A power surge […]