Electrical Panel Repairs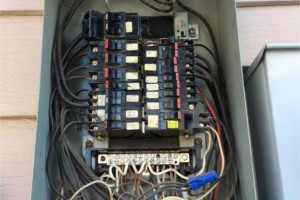 If the time comes when you need an expert to take care of your Longmont electric panel repairs , you should be able to feel certain that you are going to receive the quality craftsmanship and customer care that you need. Every home must have an electrical panel; this is what acts as the central command center for your entire electric system. If something goes wrong with the panel and you require repairs, you need to be able to entrust whomever you work with to take the best care possible when it comes to this type of work.
As important as it is to have functional power in your home, having your repairs handled promptly and professionally is about more than just that. You need to also be certain that the work is done in a safe manner in order to protect your home, your loved ones and yourself from possible related problems. By working with our Longmont Electricians at Titus Electrical Services , you can feel at ease knowing we have your back. We care as much about taking care of your electrical service needs as you do.
Electric Panel Repair Specialists
It doesn't get any easier to understand than this ? you must have a fully operational electrical panel in order to have the power you need in your home. Not only that, you must have it working properly in order to be certain your home will be safe. Anything related to the electrical system is not something that you want to be taking chances with. Even a small spark can lead to a devastating house fire; a simple shock can lead to cardiac arrest.
Your electric panel performs such an important and essential job, so it must be in excellent working condition at all times. Don't take chances when it comes to the work that goes into your home, especially when it comes to your electricity. We look forward to working with you and taking care of any related service needs you may have.
Longmont Electric Panel Repairs
At Titus Electrical Services, we have a combined work history spanning over five decades worth of expertise in this industry. We are dedicated to providing each and every customer with the finest in quality service, which is of the utmost importance when it comes to your Longmont electrical panel repairs. Get in touch with us today and rest assured that you receive the quality service you need and deserve.
Recent Electrical Panel Repairs
Latest Projects
Recent Articles
Who Is Responsible for Electric Meter Repairs and Service?
Electricity meters are essential for measuring and billing the amount of electricity used in a home or business. However, like any other equipment, meters can sometimes require repairs or service. In this blog post, we'll discuss who is responsible for electric meter repairs and service and […]
What is Whole House Surge Protection and Why Do You Need It?
Power surges can cause serious damage to your electrical devices, including computers, televisions, appliances, and more. To prevent this damage, it's important to invest in surge protection. In this blog post, we'll discuss what whole house surge protection is and why you need it. A power surge […]