Hot Tub Electrical Installation In Longmont, CO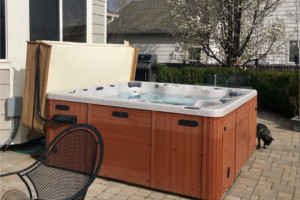 Hot tubs are incredibly fun and people love them, but they do need to be installed by a Longmont electrician. Titus Electrical Services offers hot tub electrical installations in Longmont and surrounding communities. Your new hot tub will need more power than a standard outlet. It needs to be on a dedicated circuit. If you don't already have a dedicated 50 AMP breaker in your home's main breaker box, we will need to add it for you.
Our Longmont electricians are experienced with hot tub installation . We can help you get set up quickly and properly so you have no problems with the wiring to your hot tub. Call today for an estimate. We make it a point to provide affordable electrical service to residents in Longmont. Be sure to check our site for coupons and discounts!
About Hot Tub Electrical Installations
Hot tubs generally require the installation of a 240 volt 50 AMP neutrally protected GFCI. The main breaker box in your Longmont home will also need the 50 AMP breaker installed if it is not already there. We install the GFCI near the hot tub on the home's exterior wall at minimum 5' from the hot tub or spa.
If you are having your hot tub installed indoors, you will also need to ensure there is adequate ventilation. There is a lot of humidity produced by the hot tub when it's turned on. An exhaust fan can be installed above and near the hot tub in a side wall or ceiling. You may also want to install a humidistat which turns on the exhaust fan automatically when moisture is present. The power rating of the fan will be determined by the room size. There are some very quiet models, so don't worry about that.
Why Choose Us For Your Hot Tub Wiring?
Titus Electrical Services electricians offer you more than fifty years of combined experience. Our family owned and operated electrical service company offers quality service at competitive rates. Our prices are upfront with no hidden surprises later.
We are a BBB accredited business with an A+ rating and are top rated electrical contractors in Longmont with HomeAdvisor. We have the knowledge, skill, and expertise to meet all your electrical needs.
Be sure to take a look at our Titus Service Guarantee. We want you as a homeowner to know that you are protected and that you and your home are valued. This is what has set us apart from other electricians since 2009. When you need a master electrician for large jobs or small, contact us.
Recent Hot Tub Electrical Installation Projects
Recent Articles
Does My Chandelier Need Re-Wiring?
If you're wondering whether your chandelier needs to be re-wired, there are a few signs you can look out for. One of the most obvious indicators is flickering or dimming lights. If you notice that your chandelier's lights are not as bright as they used to […]
Why Do My Smoke Detectors Keep Beeping In The Middle Of The Night
Smoke detectors are an essential safety feature in every home and building. They provide early warning of a fire, allowing occupants to evacuate and emergency services to be called. Many people know the loud sound smoke detectors make when they sense smoke, but they don't realize […]