Professional Ceiling Fan Installation in Broomfield CO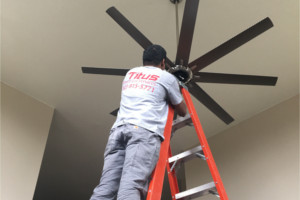 Ceiling fans are a great way to keep your home comfortable and stylish year-round. At Titus Electrical Services, we offer top-quality ceiling fan installation services in Broomfield CO to help you stay cool and comfortable.
Our team of licensed electricians has extensive experience in ceiling fan installation, replacement, and repair. We use only the best materials and equipment available on the market to ensure that your ceiling fan is functioning properly and safely.
If you're in Broomfield CO and need a new ceiling fan installed, our team can handle the job quickly and efficiently. We'll make sure that the installation is up to code and that your ceiling fan is operating at peak efficiency.
If you're experiencing issues with your existing ceiling fan, we can diagnose the problem and recommend the best course of action to keep your home comfortable and stylish.
At Titus Electrical Services, we prioritize safety and quality in all of our work. We offer affordable rates for our services and work quickly to minimize disruption to your daily routine.
Trust our experts for all your ceiling fan installation and electrical needs in Broomfield CO. Contact us today!
Recent Articles
Who Is Responsible for Electric Meter Repairs and Service?
Electricity meters are essential for measuring and billing the amount of electricity used in a home or business. However, like any other equipment, meters can sometimes require repairs or service. In this blog post, we'll discuss who is responsible for electric meter repairs and service and […]
What is Whole House Surge Protection and Why Do You Need It?
Power surges can cause serious damage to your electrical devices, including computers, televisions, appliances, and more. To prevent this damage, it's important to invest in surge protection. In this blog post, we'll discuss what whole house surge protection is and why you need it. A power surge […]