Track Lighting Installed and Repaired by Longmont Electricians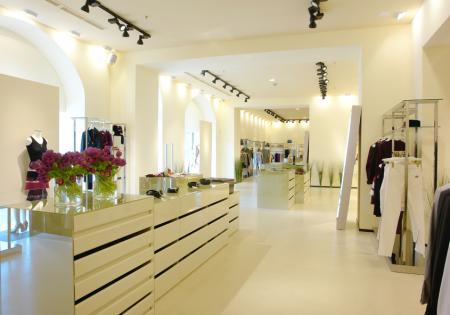 At Titus Electrical Services, our At Titus Electrical Services , our Longmont electricians strive to provide the widest range of high quality services to local families and businesses. We believe that every property owner should have an electrical system that is custom designed to his or her needs. Your electrical system should promote your enjoyment of your property. One great service that we provide that can improve the beauty and functionality of your home or business is track lighting installations.
Track lighting is a great, space-saving, versatile, and artistic way to illuminate your home or business. Essentially, track lighting is a fixture along which multiple lights can be hung to provide a customized level of light to a particular space. Along the track, lights can be angled towards unique architectural features or workspaces for superior lighting control. These gorgeous lighting fixtures are a unique way to improve any property.
Call Titus Electrical Services today if you need to hire a professionally licensed electrician to install or repair track lighting in Longmont. Our courteous and polite staff would be happy to help you in any way that we can. Our electrical experts can answer any questions that you may have about our exceptional track lighting services . We can schedule your appointment today.
Line Voltage and Low Voltage Track Lighting
At Titus Electrical Services, our Longmont electricians can help you choose the best track lighting system for your home or business. Our experts can provide you with great advice about all the major considerations including line voltage and low voltage systems. Line-voltage track lighting uses the standard current running throughout your home; whereas, low voltage track lighting reduces the current to 12 volts to accommodate a larger variety of bulb types. Our Longmont electricians will ensure that you choose the most optimal track lighting system for your property.
Track Lighting Designs
Track lighting comes in a wide number of designs and shapes. The standard track lighting fixtures come in a straight line or in H, J, or L style shapes. If you are looking for a truly unique track lighting system, our Longmont electricians can help design a customized monorail fixture for you. Monorail track lighting can be customized into practically any shape, beautifying your property in the most unique fashion.
Track Lighting Installations and Repairs in Longmont
At Titus Electrical Services, our Longmont electricians specialize in both track lighting installations and repairs. With our help, your track lighting will always beautify your home or business and will always provide for all your unique illumination needs. We can guarantee that you will be completely satisfied with all our track lighting related services.
Recent Articles
Who Is Responsible for Electric Meter Repairs and Service?
Electricity meters are essential for measuring and billing the amount of electricity used in a home or business. However, like any other equipment, meters can sometimes require repairs or service. In this blog post, we'll discuss who is responsible for electric meter repairs and service and […]
What is Whole House Surge Protection and Why Do You Need It?
Power surges can cause serious damage to your electrical devices, including computers, televisions, appliances, and more. To prevent this damage, it's important to invest in surge protection. In this blog post, we'll discuss what whole house surge protection is and why you need it. A power surge […]