Loveland Electrician Services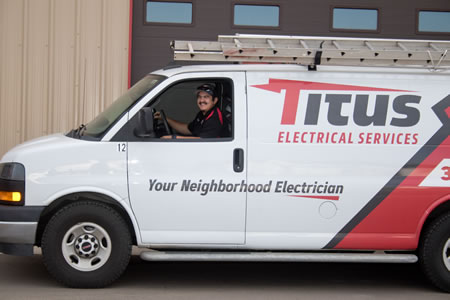 When it comes to electrical services in Loveland CO, Titus Electrical Services is the go-to company for all your needs. Titus Electrical Services has a good reputation for offering reliable electrical services to homes and businesses. They have been in the industry for 20 years. This article discusses the services provided by Titus Electrical Services. They are the top choice for your electrical requirements.
Residential Electrical Services
Titus Electrical Services offers a wide range of residential electrical services to ensure that your home is safe and functioning properly. From same day electricians, ceiling fans, electrical panels, electrical installations, Loveland electric breaker repair, and repairs to lighting and wiring, their team of licensed and experienced electricians can handle it all.
They also offer electrical troubleshooting services to identify and fix any issues you may be experiencing with your electrical system. Trust Titus Electrical Services for excellent residential electrical services with attention to detail and customer satisfaction.
Commercial Electrical Services
For businesses looking for an electrician Loveland Colorado, Titus Electrical Services commercial electrical contractor services Loveland contractor offers peace of mind reliable and efficient commercial electrical work services. They understand the importance of maintaining the smooth and safe operation of your business.
Therefore, they provide various services tailored to meet your specific requirements. From electrical wiring installations and upgrades to maintenance and repairs, their team has the expertise to handle your service commercial electrical project. They also offer emergency electrical services.
Electrical Troubleshooting
Electrical issues can be frustrating and potentially dangerous. Titus Electrical Services provides troubleshooting services to quickly find and fix any issues with your electrical system. Their skilled electricians use modern tools and techniques to quickly and effectively diagnose and fix problems. They also offer preventative maintenance services to help you avoid future electrical problems.
Same Day Electrician Emergency Services
Electrical emergencies can happen at any time, which is why Titus Electrical Services offers 24/7 emergency services. Their team is always ready to help with power outages, electrical fires, or any urgent electrical company problems. They know it's important to respond fast in emergencies and focus on keeping their clients safe and happy.
Loveland Breaker Panel Installation, Repair, and Replacement Service
Titus Electrical Services offers a variety of highly reliable electrical services in Loveland, CO. They are a family-owned and operated business that takes pride in providing exceptional electrical services to the community.
Their team of electricians holds full licenses and regularly undergoes training to stay up-to-date with industry standards and techniques. They also offer competitive pricing and free estimates for all their services. For all your electrical needs, including breaker panel installation, repair, and replacement, you can contact Titus Electrical Services today.
Hot Tub Circuit Installation Electrician Loveland CO
Titus Electrical Services also specializes in hot tub circuit installation in Loveland, CO. Their skilled electricians can install or upgrade your hot tub. They do so with precision and expertise. This applies to both new installations and existing ones.
When it comes to hot tub circuit installation, safety is of utmost importance. Titus Electrical Services understands this and ensures that they perform all installations in compliance with the highest safety standards. Our electricians know how to install hot tub circuits properly and quickly, following all the necessary requirements.
Not only do they prioritize safety, but Titus Electrical Services also values customer satisfaction. Their goal is to provide you with a seamless experience. They ensure that they complete the hot tub circuit installation on time and within your budget. Their friendly and professional team will guide you through the entire process, answering any questions you may have along the way.
In addition to installation, Titus Electrical Services also offers repair and maintenance services for hot tub circuits. If you have any issues with your circuit, their electricians can quickly find and fix the problem. This will allow you to use your hot tub without any interruptions.
Choose Titus Electrical Services when you hire an electrician for hot tub circuit installation in Loveland, CO. Expect excellent service and great results. Their commitment to excellence and dedication to customer satisfaction sets them apart from the competition. Contact them now to book an estimate and see the benefits of working with a reliable electrical service provider.
Why Choose Titus Electrical Services?
Titus Electrical Services is a family business that offers great electrical services to the Loveland CO community. Their team trains the electricians often to keep up with industry standards.
They have licenses and insurance. They offer competitive prices and provide free estimates for all their services. This makes them a cost-effective choice for your electrical needs.
In conclusion, Titus Electrical Services is the top choice for all your service call electrical service needs in Loveland CO. Their team offers reliable and high-quality services for residential and commercial electrical needs, including troubleshooting and emergency assistance. Contact Titus Electrical Services today for all your electrical needs and to hire a professional.
Contact Titus Electrical Services
We specialize in residential home electrician services. If you are looking for an "electrician near me", or "Loveland Electrician", Titus Electrical is here to help. Our expertise in residential home electrical repair service and rewiring is vast. Reach out to us at 303-915-5771.