Residential Remodel Electrician In Fort Collins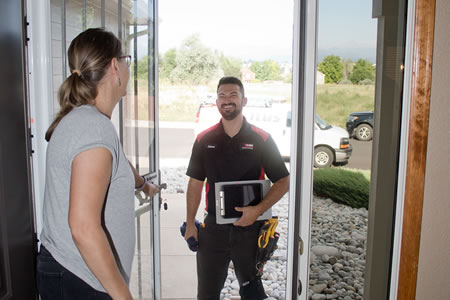 Residential Home Remodeling Services By Titus Electrical Services in Fort Collins CO is your trusted partner for all your residential home remodeling needs.
With years of experience in the industry, our team at Titus Electrical Services understands the importance of creating a comfortable and functional living space. Whether you're looking to update your kitchen, renovate your bathroom, or add an extension to your home, we have the expertise to bring your vision to life.
We tailor our residential home remodeling services in Fort Collins CO to meet your specific needs and budget. We take the time to listen to your ideas and work closely with you to design a plan that suits your style and preferences. From concept to completion, our skilled craftsmen will handle every aspect of the project with precision and attention to detail.
When it comes to Fort Collins home remodeling electrical work, safety is our top priority. Our licensed and insured Fort Collins electricians are well-versed in the latest industry standards and regulations. We ensure that we do all the work to code, providing you with peace of mind, whether you need to upgrade your electrical panel, install new lighting fixtures, or rewire your entire home.
At Titus Electrical Services, we understand that home remodeling can be a disruptive process. That's why we strive to minimize any inconvenience to you and your family. Our team efficiently works and respects your space, ensuring that we complete the job on time and within budget.
In addition to our remodeling services, we also offer a wide range of electrical solutions to enhance the functionality and efficiency of your home. From installing smart home systems to upgrading your electrical wiring for energy-saving purposes, we have the knowledge and expertise to handle all your electrical needs.
When you choose Titus Electrical Services for your residential home remodeling project in Fort Collins CO, you can expect exceptional craftsmanship, reliable service, and a commitment to exceeding your expectations. We take pride in our work and strive to create spaces that you'll love for years to come.
Electrical Remodeling Services We Provide: Lighting, rewiring, panel upgrades
Our team of skilled electricians at Titus Electrical Services is dedicated to providing top-notch electrical remodeling services to homeowners in Fort Collins CO. We understand the importance of having a well-functioning electrical system that not only meets your needs but also enhances the overall efficiency of your home.
One of the key services we offer is lighting installation. Whether you want to brighten up your living room, create a cozy ambiance in your bedroom, or add some flair to your outdoor space, we have the expertise to install a wide variety of lighting fixtures that suit your style and preferences. Our residential remodel electricians will work closely with you to understand your lighting goals and recommend the best options that fit your budget.
In addition to remodeling can lights, we also specialize in rewiring services. If you have an older home with outdated electrical wiring, it may be time to consider an upgrade. Our team will carefully assess your current wiring system and provide you with a comprehensive plan to ensure the safety and efficiency of your electrical setup. We use high-quality materials and follow industry standards to guarantee a reliable and long-lasting solution.
Panel upgrades are another area of expertise for us. As technology advances and the demand for electricity increases, it's crucial to have an electrical panel and circuit breakers that can handle the load.
Our licensed electricians are well-versed in panel upgrades and will assess your current electrical panel project to determine if an upgrade is necessary. We will guide you through the process, explaining the benefits of upgrading and ensuring that your new panel meets all safety codes and regulations.
At Titus Electrical Services, we prioritize customer satisfaction above all else. We are proud of our craftsmanship and attention to detail, which ensure that we complete every electrical remodeling project we undertake to the highest standards. Our team is committed to exceeding your expectations and creating spaces that you'll love for years to come.
So, whether you're looking to enhance the kitchen lighting in your home, ceiling fans, upgrade your electrical wiring, or improve your electrical panel, Titus Electrical Services is your go to remodeling electrician here to help. Contact us today to schedule a consultation and let us transform your home into a more functional and efficient space.
Contact Titus Electrical Services
We specialize in residential home renovation electrician services. If you are looking for an "electrician near me", or "Electrician Fort Collins CO", Titus Electrical is here to help. Our expertise in residential home electrical repair service and rewiring is vast. Reach out to us at 303-915-5771.