Fort Collins Electrical Repairs Service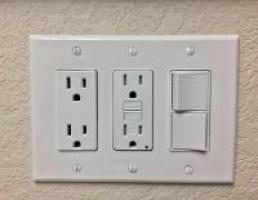 Whenever you have any electrical issues within your Fort Collins home, it is imperative that you hire a professionally licensed electrician to conduct the repairs. At Titus Electrical Services , our Fort Collins electricians have the ability to repair all aspects of your residential electrical system from wiring and panels to lighting and outlets. Our repair services ensure that your electrical system operates in the best and safest fashion.
Call Titus Electrical Services today if you have any electrical repair issues in Fort Collins. Our knowledgeable staff is here to address any electrical problems that may be present within your home. Even if there are no apparent problems, you may be able to benefit from routine inspection and minor repair services. We would be glad to answer any questions that you may have and to set up your appointment today.
Electrical Wiring, Panels, and Circuit Repairs in Fort Collins
In addition to installing electrical panels, our Fort Collins electrical contractors are especially adept at repairing all of the major electrical infrastructure features within your Fort Collins home. If you are experiencing flickering lighting or poor electrical performance, chances are that there may be a significant problem with a major portion of your electrical system. Our electricians can determine the source of your problem and conduct the necessary electrical repairs to your wiring, outlets, and electrical panels. After our repair services, we guarantee that your electrical system will operate at peak levels.
Fort Collins Routine Electrical Repairs and Inspections
In order to prevent major electrical issues, Titus Electrical Services proudly offers our line of preventative repairs and inspection services to Fort Collins residents. Your electrical system is very important to you and your family and you should take the necessary steps to properly maintain it to ensure that your electrical system is always operating in a safe, reliable, and efficient fashion.
At Titus Electrical Services, our electricians can inspect your electrical system on a routine basis to ensure that it is operating efficiently and that it is not susceptible to damage or failure. During these inspections, we will identify minor problems and repair them before major issues can result. In this way, we can guarantee that your Fort Collins family always has the high quality electrical performance they deserve.
Contact Titus Electrical Services
With any electrical needs and repairs, it's highly advisable that your house has an annual inspection if you wish to maintain it.. Luckily, if you are looking for an "electrician near me home service," or "Fort Collins electricians," Titus Electrical is here to help. Our expertise in house rewiring is vast. Reach out to us at 303-915-5771.
Recent Electrical Repairs
Recent Articles
Exploring the Safety of Aluminum Wire
Safety is a top priority for aluminum wiring in houses. With so many options available, it can be overwhelming to determine which type of wire is the safest for your home. One type of wire that has been a topic of debate is aluminum wire. In […]
Who Installs Ceiling Fans Near Me
Ceiling fans are a popular and practical addition to any home. They can help circulate air, reduce energy costs, and add a decorative touch to a room. However, installing a ceiling fan can be a daunting task for many homeowners. That's why it's important to find […]