Northglenn Electrical Repairs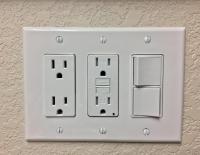 Every homeowner will at some point need Northglenn electrical repairs . If you are located in Northglenn and are looking for an electrician for Northglenn electrical repairs , call Titus Electrical Services.
Hiring a contractor can be frustrating if you're not sure who to trust. You can count on our highly skilled electricians to be honest, knowledgeable, experienced, and fully up to date on all new advanced systems.
We would love to earn your business for many years to come. Let us show you why so many already choose us. We at Titus Electrical Services are here to meet all your electrical service needs. We offer a full line of services including:
Aluminum Wiring Replacement
Electrical Safety Inspections
Home Generators
Electrical Wiring
Electrical Repairs
Lighting
Panel Upgrades
Surge Protection
Basement Electrical Finishing
Ceiling Fan Installations
Expert Electrical Troubleshooting
We have the skills and tools to find the cause of your electrical problems. Sometimes you don't know what's wrong. Don't stress, just call and tell us what problems you are having.
Loose Outlet & Light Switch Repairs
Do you have a home with outlets hanging off the wall? Do you have outlets that block what you're trying to plug in? Do your light switches all work properly?
Making these little repairs may seem insignificant. But when lights don't work or the outlet has problems, it's best to have them repaired quickly for safety. These are common locations where electrical shock occurs. Call Titus Electrical Service today for your Northglenn electrical repairs.
Electrical Wiring Repairs
Is the wiring in your home causing problems? Do you have outlets that sometimes work and sometimes don't? Do you have visible burn spots near lighting, outlets, or switches?
Loose wiring is a shock and fire hazard. Old aluminum wiring is dangerous. Cut wires are equally unsafe. Since the wiring isn't readily visible, there can be problems behind the walls or at connections. If you know you have loose or exposed wiring, give us a call. If you know the wiring is old, give us a call.