Time For An Electrical Panel Upgrade In Thornton?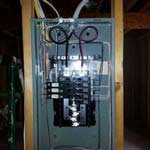 The electrical panel in your home houses the circuit breakers and distributes the electrical wiring to various areas of the home. It's important to upgrade the panel so the electrical system works as safely and reliably as it should.
If you live in Thornton, call Titus Electrical Services for an Thornton electrical panel upgrade . We can assess the condition of your electrical system as well if you aren't sure it's time for an Thornton Electrical Panel Upgrade .
Exceptional Customer Service
Highly Skilled Electricians
Licensed & Insured
Full Service Electrical
How To Tell If It's Time For An Upgrade
If you have an older Thornton home, it's likely that you need to upgrade the electrical panel. At the very least, an electrical inspection of the entire system should be done on older homes.
If you have owned your home for ten years and haven't had the electrical panel upgraded, it's highly likely that it no longer conforms to building safety codes. Again, call a licensed electrician to inspect the panel.
If you ever have doubts about the safety and reliability of your home's electrical system, call in a licensed electrician.
When To Have Electrical Panel Upgrades
An electrical panel will last some 25-40 years, but that doesn't mean they are still safe. Building safety codes change because the use of electricity in homes and businesses change and sometimes commonly used components are found to be unsafe. Codes are in place to ensure that the property and owners are safe from fires, shorts, sparks, and shock.
As the codes change, so should your electrical panel. In general, it's good to upgrade every ten years for a residential homeowner.
Any time a property is rented out, an inspection should be done every five years in case the tenant tried to handle electrical work themselves or asked a friend or family member to do it.