Brand New Ceiling Fan Installation In Longmont - Titus Electrical Services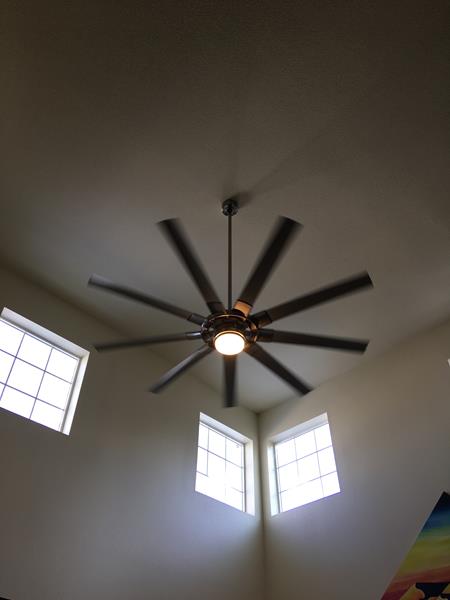 Our team of professionals here at Titus Electrical Services were recently give the opportunity to perform a brand new ceiling fan installation for one of our valued customers here in the Longmont area. In this job, one of the most difficult aspects was finding a brand new ceiling fan that was big enough and dynamic enough to stand out while still providing adequate air circulation to the entire room. The 20' ceilings of our customers home made sure that this task certainly wasn't an easy one, but our customers were able to find the perfect option that helps the add style to the space while still providing the additional airflow that our customers felt was missing from the space before. The dark color of this new ceiling fan helps to create a nice contrast against the bright white of the room, and while the space still feels large, it doesn't feel quite as cavernous anymore.
Our customers couldn't be happier with the results of their new ceiling fan installation . With this installation, our customers will be able to take advantage of the many benefits that come along with having a high quality ceiling fan in place, including increased energy efficiency throughout the home, and increased comfort during the summer months. This massive new fan will also help to better circulate the air throughout our customer's home, helping to prevent damp or stale air from lingering where it shouldn't be, while the new light will help to provide a warm new glow for this spacious room. If you are interested in new ceiling fan installation for your Longmont home, contact the team of ceiling fan installation specialists at Titus Electrical Services today.