How GFCI Outlets Can Make A Difference in Your Home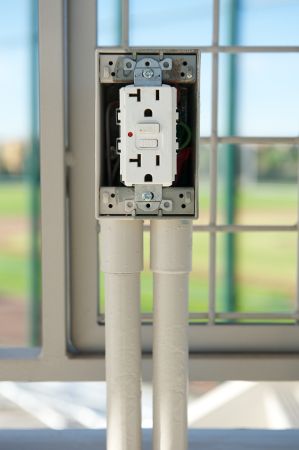 A GFCI Outlet is a ground fault circuit interrupter outlet, which helps explain what it does and why it is so essential to your home. This life-saving device detects imbalances in the electrical current and then immediately disconnects the power in order to reduce the risk of shock or electrocution. For that reason, these types of outlets are required mainly in areas of your home where electricity and water are both found.
Most modern homes are already built with these in place. However, if you have an older home or are remodeling or adding on to your existing Longmount home, it is important that you are aware of where these must go. It's not just about meeting code, it is about ensuring the safety of yourself and your loved ones.
Where They Are Required
A GFCI outlet should be installed into all of the following locations:
Bathroom ? All receptacles in any of your bathrooms, must have this type of outlet in place.
Kitchen ? For outlets within 4 feet of a sink, or any that are in place to serve the countertop, a GFCI is required.
Unfinished Basement ? This is any basement that is not finished and therefore uninhabitable. This is often then a space that is utilized for storage, laundry or other functional purposes.
Crawlspace ? The requirements for a crawlspace are the same as an unfinished basement.
Garage ? As with a basement, this is intended for a space used for storage, work or similar and that is uninhabitable.
Pool Area ? All receptacles within 20 feet of a pool, lighting and pumps are all areas where you will need a GFCI outlet .
Keep in mind, this is for your own good and for the well-being of your loved ones.
Safety First
The smart thing to do is pick the right team to partner with, to address your electrical service requirements. Titus Electrical Services is a family owned and operated business that has over 50 years of combined experience. We want to be a part of helping keep your household safe, by offering the best in GFCI outlet installation and service. Don't settle for anything less than the best, when it comes to something as crucial as your electrical work.