Electrical Panel Upgrades For Boulder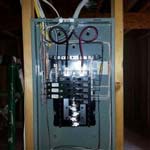 Titus Electrical Services wants you to be safe. If you have a large or small electrical repair, please call our licensed electricians when you need an electrical panel upgrade or any other service.
If your electrical system hasn't had attention in some time, it's probably time to get a Boulder Electric Panel Upgrade . With any signs of trouble, you can count on our skilled and experienced electricians to handle your Boulder Electric Panel Upgrade .
We offer a full line of professional electrical service in Boulder. When you need an electrician, we will strive to become your number one choice!
50 Years Of Combined Experience
Electricians Local To Boulder
Customers Are Top Priority
New Lighting Installation
Electrical Repairs
Panel Upgrades
New Electrical
Wiring Replacement
Are You Having Any Of These Problems? If So, You May Need A Panel Upgrade
There are many times the electrical panel will need repair before an upgrade has to be done. If the panel needs upgrading or repair, we can get it done.
Most homeowners don't give their electrical systems much thought until there are obvious signs of trouble. If you experience interrupted power, surges, trips, or have any other problems, call our Boulder electricians.
Burned Out Electronics
Frequent Surges
Power Lacking Strength To Run Multiple Appliances
Dimming Lights or Flickering Lights
Strange Noises
Frequent Breaker Tripping
Adding A Sound System, Heavy Appliance, or Hot-Tub?
Your electrical panel may need upgrading if you plan to pull additional power from the system regularly. Before installing that beautiful hot-tub or adding a home entertainment system to your home, it may be necessary.
You may just need a dedicated circuit that only serves the appliance. Give us a call and we'll take care of it for you. This is a fun time, so let's be sure safety is a priority.
Remodeling Electrical
Basement Finishing
Lighting Installation
Home Generators
Surge Protection
Ceiling Fan Installation
Electrical Upgrades
Electrical Appliance Installations