Need Electrical Repairs In Boulder?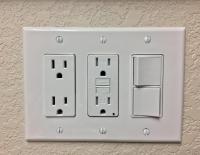 We know you hear it all the time to make sure any Boulder electrical repairs are done soon for your safety. We often stress this because as electricians, we know how dangerous electricity can be. From 1992 to 2003, 586 electrical workers were electrocuted to death. There are more construction industry workers who have died from electrocution.
This is why it's so important for you to hire an experienced, licensed Boulder electrician. Let us take care of your electrical work.
Titus Electrical Services have a combined 5 decades of industry experience. We stay up to date on our education and are ahead of the class. We can take care of all your electrical service needs including Boulder Electrical repairs .
Polite & Courteous Staff
Great Customer Service
Honest & Ethical
Here For The Long Term
Exposed Wiring Repairs
It's never fun to inherit a home with problems like exposed wiring. When wiring isn't properly protected, it's very vulnerable to cuts, drying, moisture, and other problems.
Wiring with missing insulation is dangerous. Something needs to be done about it. Our electricians can take care of the repairs for you. It could be a simple fix, so call today.
We sometimes find a missing cover on an electrical box, leaving the wiring and connections exposed. This is equally dangerous. If you have this type of electrical hazard in your home or are concerned about any part of your electrical system, please contact us.
Sparks
Shocks
Popping Sounds
Surges
Fried Electrical Devices
Burn Spots or Smells
Has Someone Made Previous Electrical Repairs You Aren't Sure Of?
Sometimes electrical repairs are made by someone who isn't professionally licensed. Sometimes the problem is inherited from previous owners. Some will try to repair it themselves. Sometimes a friend or relative is asked to help in order to save money. And in some cases, an inexperienced electrician makes a mistake.
Whatever the reason, just let us know you need to have your electrical system checked out. We'll make sure the electrical system is safe.