Need Electrical Repairs In Thornton?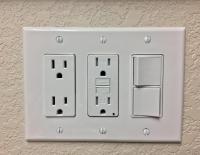 Electrical problems need to be addressed by a licensed Thornton electrician right away. Do you have an electrical system that isn't reliable? Are you experiencing frequent surges or seeing sparks, burn spots, exposed wiring, or loose wiring?
If so, call your Thornton electrical repair professionals at Titus Electrical Services . We have the experience to troubleshoot and find the cause quickly and accurately. Our electricians are highly skilled and fully equipped with advanced tools to locate problems and make Thornton Electrical Repairs .
Signs You Need Electrical Repairs Right Away
Sometimes an electrical problem will go unnoticed because the electrical system is hidden behind walls or ceilings. A homeowner may only notice something small such as a wafting burn smell.
If you notice any of the following signs, you need to call our Thornton electricians right away. You may need electrical repairs, rewiring, additional circuits, a panel upgrade, or something else to make the system safe.
Burns on Outlet Plates
Burn Spots on Walls or Ceilings
Frequent Surges
Shocks & Sparks
Fried Electronics or Appliances
Breakers That Trip Frequently
Burning Smells
Loose Wiring
Exposed Wiring
Popping Noises
Why Call Titus Electrical Service For Thornton Electrical Repairs?
Our number one concern is your safety. In fact, that's why we offer electrical repairs to Thornton in the first place. We are electricians who care about our customers. This is why we stay up to date on our training and certifications. It's also why we treat our customers right with exceptional customer service.
We promise we will work hard for you.
We take pride in the quality of our work.
We are honored to earn your trust.
We want to be your go to Thornton electricians.
We are polite and courteous.
We are skilled and equipped to handle all your electrical service needs.
We offer a full line of service to our customers.