Hire an Electrician During a Basement Finishing Project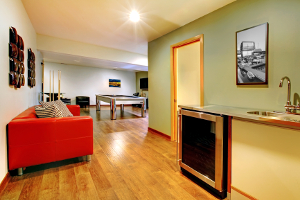 If you have an unfinished basement in your Longmont home , then you and your family have the perfect opportunity to design a living space that will accommodate your unique needs. In order to customize your basement to the utmost, you should hire a professional electrician to help you with the project. In Longmont, the most skilled and experienced electricians are at Titus Electrical Services .
When you hire Titus Electrical Services during your basement finishing project, you can rest assured knowing that every change that you make to your basement will be as advantageous as possible. Our experts will be able to provide for all your electrical needs in the safest, most efficient, and most effective fashion. You will have free reign to customize your basement in any fashion that you want.
Basement Finishing Electrical Supply Advice
When you decide to finish your Longmont basement, one of the first things that you will need to consider is the source from which you will draw the electrical supply. In general, you will have two options. First you can supply electricity from the electrical panel that provides for the rest of your house. Second you can install a new subpanel specifically for the circuits within your basement.
At Titus Electrical Services, our Longmont electricians can provide you with the information that you need in order to determine which electrical supply source will work best for you. Our experts will inquire as to all your electrical needs in order to ensure that you decide on the best course of action. In either event, our professional electricians can connect wiring to your existing panel or install a new basement subpanel for you.
Electrical Wiring and Appliance Installation
After deciding how to supply your basement with electricity, the Longmont electricians at Titus Electrical Services will be able to help you completely customize your basement. Whether you are finishing your basement by turning it into a new bedroom, bathroom, living area, kitchen, or entertainment space, their electricians have the experience and skill to achieve all of your goals. They can install all of the following for you:
Electrical Wiring
Lighting
Ceiling Fans
Audio and Visual Entertainment
Bathroom Vanity Lighting
Electronic Appliances
Plugs and Outlets
And More
In the end, by hiring a professional electrician, you are guaranteed to make the most of your basement finishing project. The Longmont electricians at Titus Electrical Services will dedicate all of our efforts to ensure that you achieve all of your basement remodeling goals. In this way, We can guarantee that you will be completely satisfied with your new living area for years to come