Electrical Wiring Design & Installation For Basement Finishing Services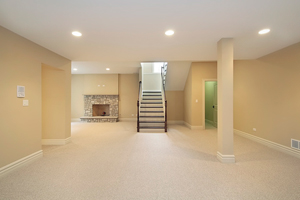 When you remodel your Longmont home's basement, you're going to need an experienced electrician to take care of the basement wiring. Titus Electrical Services has helped many homeowners in the Longmont area with their basement remodeling electrical needs since 2009. We would love the opportunity to assist you with our more than fifty years of combined experience in the electrical industry for your basement electrical remodeling project.
Every home is unique in the electrical configuration and age of wiring that's currently in the home. While some homes have seen upgrades through the years, some have not. These and other considerations factor into what electrical needs your particular Longmont area home has during your basement remodeling.
There are a number of items your electrician may need to take care of at the time your basement electrical system is planned, all depending on your existing electrical configuration in your home. It's vital that the basement remodeling electrician you choose is capable and experienced to handle all scenarios.
Whether you're planning to use your basement as living space for guests or family members or you're planning to create a family entertainment room with all the bells and whistles, we can take care of all of your basement remodeling electrical configurations with expertise.
Electrical Wiring Design For Basement Finishing
Our expert Longmont electricians will examine the existing electrical systems in your home and determine what will be needed to provide you with the power you will need in your new basement living space.
Remodeling your basement may mean upgrading your panel box, wiring, outlets, switches and more.
The changes needed will become part of a comprehensive electrical design plan to finish your basement remodeling. Our electricians at Titus Electrical Services will discuss all your future basement electrical needs and determine a plan that's thorough and more than sufficient to handle your basement's electrical power. As professional electricians, we'll ensure your basement is wired conforming to local building codes and that everything to do with your electrical system for your basement passes inspection.
Wiring Installation Or Replacement
The Longmont wiring in your home may or may not support the additional electrical requirements of your new basement space. If your home's wiring is older, you may need to have your wiring replaced and brought up to current building safety codes.
We can add any additional electrical configurations necessary for your finished design plan. From basement hot tubs to decked out home theater systems to home generators or sump pump systems, we can design, install, and prepare your basement to sufficiently and effectively handle the power you will be using.
Home Theater Systems
Home Generators
Ceiling Fans
Lighting
Outlets & Switches
Panel Upgrades
Wiring Upgrades
Air Purification Systems
Electrical Panel Installations & Upgrades For Basement Finishing
Your Longmont area home may need to have an additional electrical panel installed in order to support the additional electrical load for your basement remodeling or your existing panel may need to be upgraded. No matter the changes that need to be configured, installed, or upgraded, you have an electrician you can count on to get it right at Titus Electrical Services..